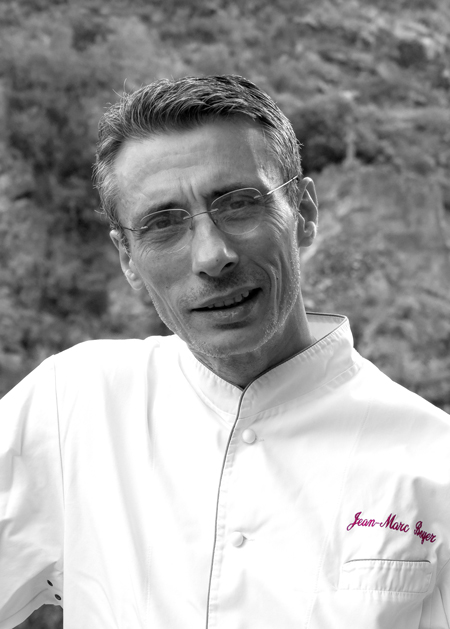 Born in the south of France, Jean-Marc Boyer started in Narbonne at the two-Michelin-star restaurant "Le Réverbère" before moving to Paris, where he trained for more than 20 years with the best chefs.
In Paris, he worked at the restaurant "Dodin Bouffant" of Jacques Manière, the forerunner of steamed cooking, and later he cooked for the military Governor of Paris in "Les Invalides".
He left this prestigious position for another, equally prestigious: cook at "Place des Vosges". He spent twelve years with Chef Bernard Pacaud at the three-Michelin-star restaurant "L'Ambroisie" before becoming a cook at "La Table de l'Espadon" at the Ritz Paris, Place-Vendôme.
Through all these years, he learned the culinary art alongside the greatest chefs: Loiseau, Lasserre, Gagnaire.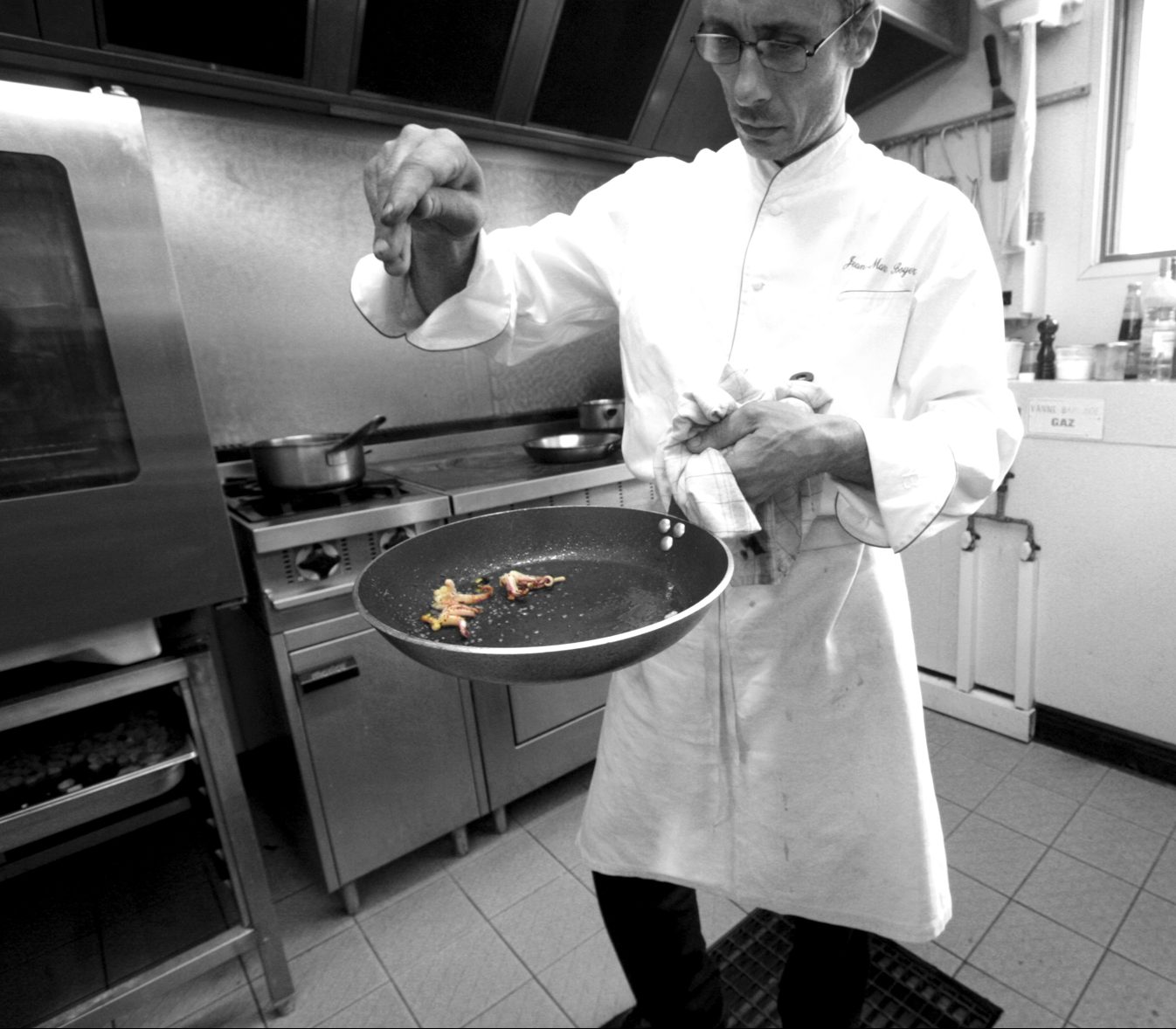 In 2003 he left Paris and settled in the village of Lastours, in the heart of the Cathar Country and at the foot of the Black Mountain, 12 km from Carcassonne. He created his restaurant "Le Puits du Trésor" below the four Cathar castles of Lastours, in an old textile factory overlooking the Orbiel River, and was awarded a star in the 2007 Michelin Guide.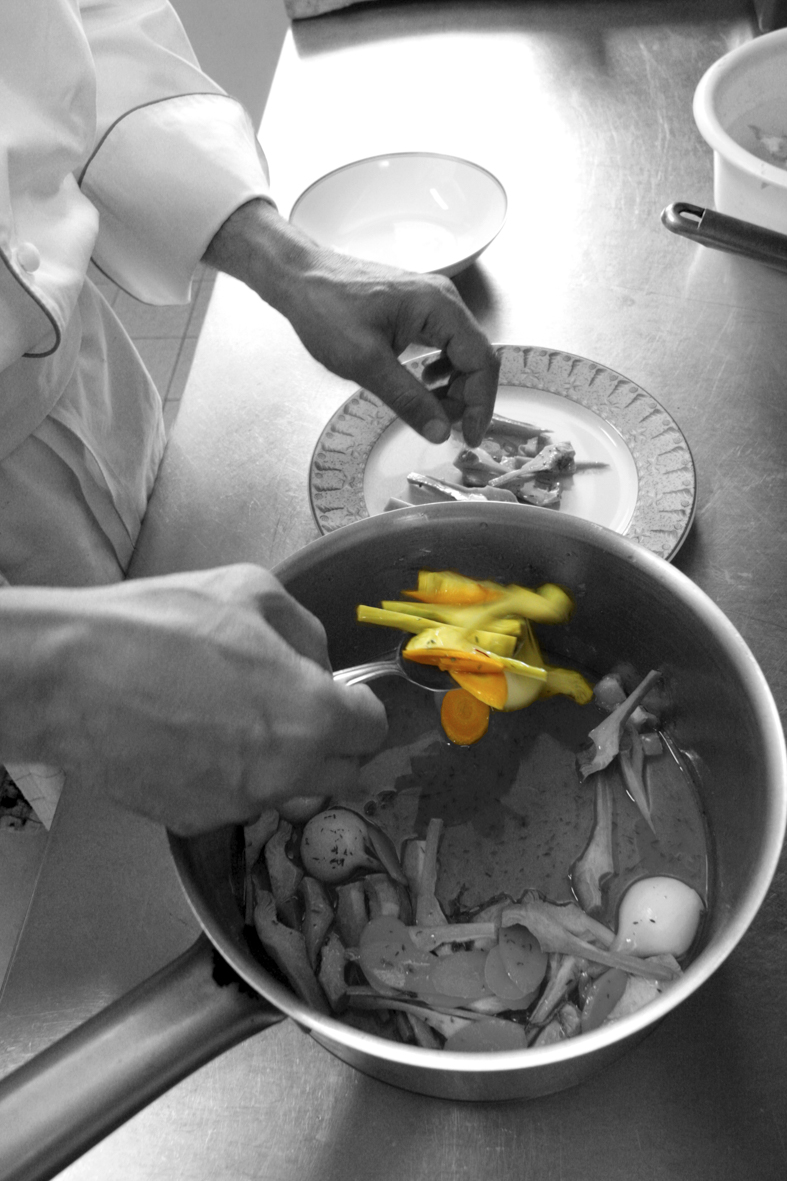 Savoir-Faire
His cooking secret: offering unpretentious dishes with an unbeatable aroma thanks to natural ingredients and a demanding search for flavour.
The flavours of local products – meats, vegetables, fruits and herbs coming almost exclusively from local producers who are real connoisseurs of their land – guide his creativity.
This alliance of authenticity and quality allows our chef to unleash his creativity and the pleasure of enchanting his guests gives meaning to his continuous search for creations, guided by the rhythm of the seasons. .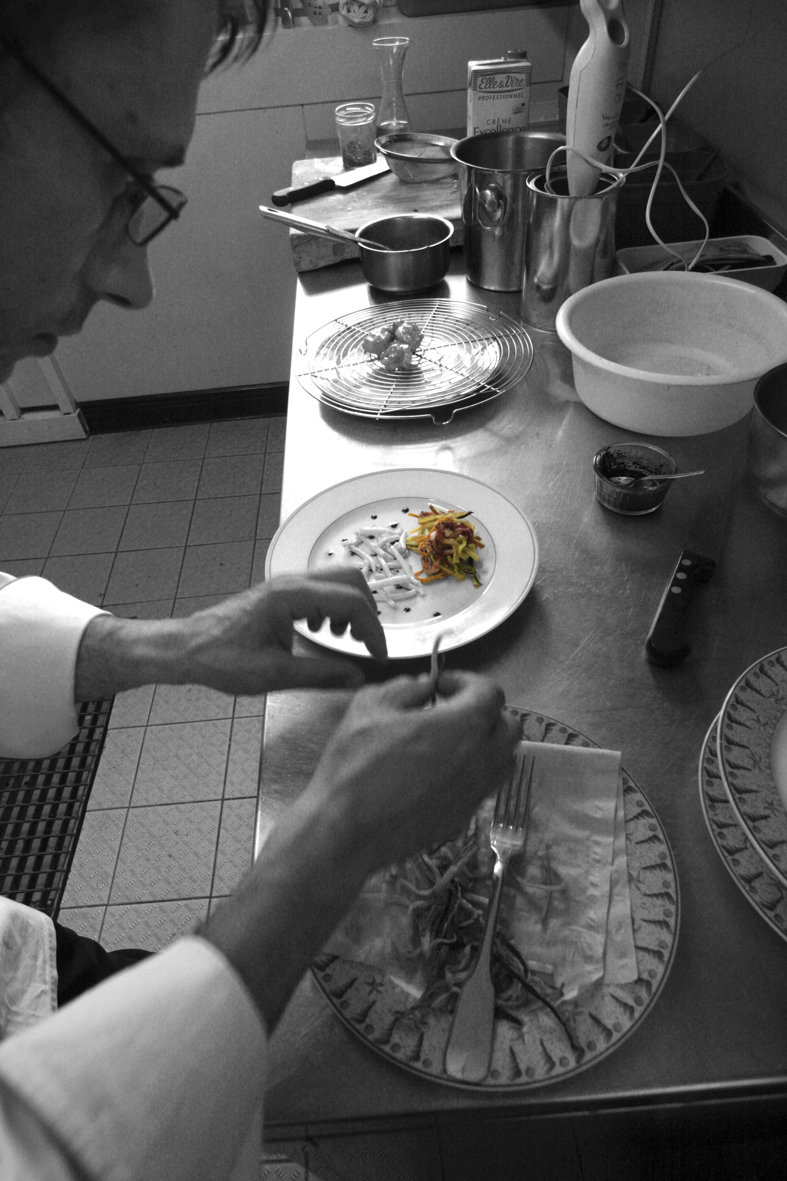 Restaurant guides
One star in the Michelin Guide since 2007
Note of 16/20 and "favourite" in the 2009 Champérard Guide
"3 chef's hat" in the Gault Millau Guide
The Pudlowski Guide
The "Carnet de Route Omnivore"
The "Bottin Gourmand"
The Hachette Guide
The Hubert Guide
The "Guide du Routard"
The Fooding Guide
Culinary Performances
In Londonduring the "Festival Sud de France" 2007
In Parisunder the aegis of Chef Pierre Gagnaire
In New Yorkin 2010 he was the guest of "The James Beard Foundation" that promotes culinary art
In New Yorkhe cooked for the press at the "Benoît" restaurant under the aegis of Chef Alain Ducasse
In Beijing in February 2013 he made culinary demonstrations and participated in themed meals
In Beijing November 2014 he made culinary demonstrations and participated in themed meals
In Las Vegasin August 2014
he spent a week cooking with Chef Pierre Gagnaire
In Beijing and Shanghaiin November 2015 he participated in a culinary demonstration week at the TRB (Temple Restaurant Beijing), at the Beijing International Tourism Fair (BITE) and at the Park Hyatt Shanghai
In Shanghai in 2016
he participated in the Culinary Week at the Park Hyatt Shanghai
In Tokyo in 2016
he participated in a "four-handed meal" with Michelin-starred Chef Pachon
Cooking Competitions
4th finalist in the 2018 Prosper Montagné International Gastronomic Cooking Competition
4th finalist in the 2017 Prosper Montagné International Gastronomic Cooking Competition
New Talent of French cuisine during the event "Food France 2005" organized by Alain Ducasse
Champérard / Badoit 2005 Trophy of Young Local Chef
Prosper Montagné Group Diploma and Badge of Culinary Merit from the "Gastronomic Order" of Saint Fortunat with the "Rank of Knight"
Student of Auguste Escoffier
His restaurant "Puits du Trésor" was ranked by Foodi among the 100 best restaurants in France
Radio
France Inter with Jean-Pierre Coffe
Chérie FM
100% radio Castre
Radio Narbonne
RCF
Television
"Vivement Dimanche" with Michel Drucker and Jean-Pierre Coffe on the "cassoulet"
Joel Robuchon Cooking Show "Bon appétit bien-sûr"
Film on Jean-Marc Boyer: "Histoires naturelles – Cuisiner au pays"
Cooking lessons on the internet on TV Carcassonne
American TV Show with "Calemeco Cooking Class"
Show on Chinese TV
Show on the TV programme "Seasons – Pêche et Chasse 2016"
Culinary programme on "Gibier à la carte! – Les carnets de Julie 2016"
Documentary "A fond les champignons" on morel mushrooms in September 2017 on the TV channel "France 5"